Everything to Attract Birds, Not Squirrels - All In One Box!
Share the Joy with Blaze, the hot pepper squirrel. A new addition to the Wild Birds Unlimited Character line-up, Blaze brings the heat this holiday season.

Our Share the Joy Blaze Box includes:
Blaze Seed Character
Mini Cylinder Feeder
No Mess Hot Pepper Stackable
Cranberry Hot Pepper Stackable
Hot Pepper Suet Stackable
Our Share the Joy Winter Foods Sampler includes:
The Winter Bird Food Sampler box includes:
WBU No-Mess Seed Blend: No shells. No mess. 100% edible!
Jim's Birdacious™ Bark Butter® Bits: Attracts the widest variety of birds, including many that do not normally visit feeders.
WBU Winter SuperBlend™ Seed Cylinder: Provides essential energy, fats and proteins for birds' seasonal needs.
WBU SuperSuet™ No-Melt Cylinder: Our highest fat, highest protein suet blend.
Our Share the Joy Woodpecker Box includes:
Suet Cylinder Dough Feeder
Suet Cake Feeder
SuperSuet Cylinder Dough
SuperSuet Cake

Order a box today for your friends and loved ones to let them know you're thinking of them this holiday season. We'll deliver a box full of joy directly to their door! Or, order one for yourself and attract birds, not squirrels, to your own backyard.
*Contents may vary based on product availability.
Share the Joy Box
Blaze the Hot Pepper Squirrel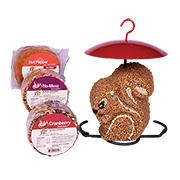 Share the Joy Box
Winter Foods Sampler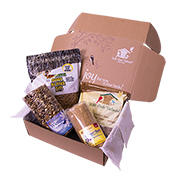 Share the Joy Box
Woodpecker Box