Your Backyard Counts - The Great Backyard Bird Count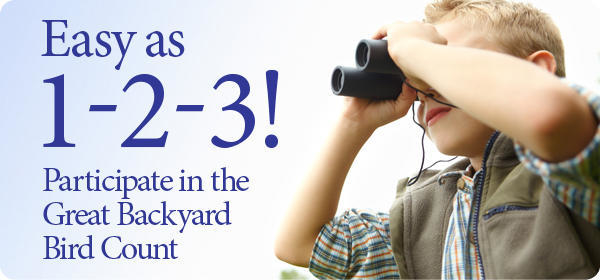 Take Part in the Great Backyard Bird Count: February 17-20
This count is so fun because anyone can take part—we all learn and watch birds together—whether you are an expert, novice, or feeder watcher. I like to invite new birders to join me and share the experience. Get involved, invite your friends, and see how your favorite spot stacks up. Bird populations are always shifting and changing. For example, 2014 GBBC data highlighted a large irruption of Snowy Owls across the northeastern, mid-Atlantic, and Great Lakes areas of the United States. The data also showed the effects that warm weather patterns have had on bird movement around the country.
The Great Backyard Bird Count (GBBC) is a joint project of Cornell Lab of Ornithology and the National Audubon Society and is sponsored by Wild Birds Unlimited. It takes place over four days each February. Simply count the birds! Count the numbers of birds and the species variety. You can count in your backyard or any location you like for at least 15 minutes on one or more of the count days and then simply report the information online at http://gbbc.birdcount.org/
The Great Backyard Bird Count gives you the opportunity to make a difference by participating in this annual event which links citizens with scientists in an effort to collect important data about backyard birds. This extensive information data base is analyzed by scientists to better understand important trends in bird populations, range expansions, habitat changes and shifts in migration patterns.