Add Holiday Cheer to Your Yard

Whether you are looking for a great nature gift or a new way to thrill your birds this season, we have everything you need.
We offer a variety of holiday bird foods, including Preston the Penguin and Buttons the Snowman Seed Characters, our Christmas Cake™ Suet and our Christmas Seed Blend. Each of these is only available for a limited time, and only at Wild Birds Unlimited of Amherst.

The Wild Birds Unlimited Christmas Seed Wreath does double duty during the holidays. Not only is it a dining delight for birds, but it also adds festive cheer to any yard. This wreath is chocked full of black oil sunflower, peanuts, almonds, pecans, peanut suet nuggets and cherries. Show your birds you care this holiday season with a treat they'll enjoy time and time again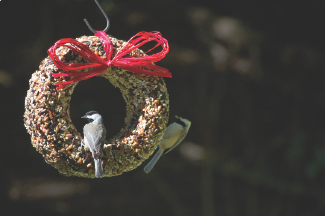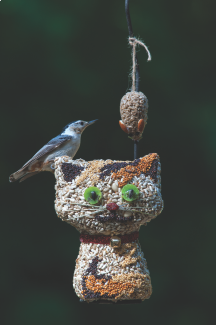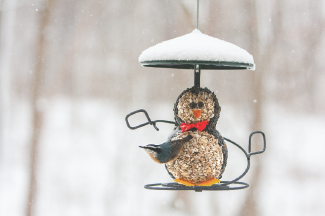 Buttons the Snowman Seed Cylinder
Buttons the Snowman Seed Cylinder is a mix of safflower, sunflower chips, peanuts, cherries, blueberries and papaya to attract a variety of birds. Simply slide the Snowman Seed Cylinder onto our WBU Seed Cylinder Feeders or WBU Dinner Bell™ feeder and enjoy the feathered holiday visitors.
The Snowman Seed Cylinder is the perfect holiday addition to any yard and a great gift idea for the nature lovers on your list.